So, having experienced my very first Chelsea game just two weeks before, the question now was:
How do I top that? How can I go one better and take things to a different level?
Well, the answer was:
You can't, so don't try.
Two weeks spent asking, nagging and pleading with my family for at least one of them to take me to The Bridge again resulted in my older brother agreeing, albeit with one or two terms and conditions attached including letting him have my colour Ty-Phoo Tea Chelsea team picture AND the ones of Bobby Tambling and Eddie McCreadie too. After much haggling, persuading and negotiating, it was agreed that I'd keep all three but that I 'owed' him. Result.
After contracts and agreements had been written on a sheet of National Westminster Bank A4 paper, the older of the two of us then inserts one final clause:
I can bring my mate Sean.
A sub-clause was hastily added to the satisfaction and agreement of all parties: Only if he brings his brother Christopher as he's the same age as me and it's only fair and they're both Chelsea fans, so that's ok, right?
All parties and their agents, namely Mum and Dad, agreed and the date was set; Saturday 10th April 1971.
On the morning of the big game, our 4 intrepid travellers ran into the ticket hall of our local north London Underground station and promptly hit their first snag, the clunking of the huge and heavy lift doors and their folding gates almost threatening to drown out the conversation.
"What do you mean, there's not a station called Chelsea? There must be. What about Stamford Bridge, then? Oh, right, 4 child returns to Fulham Broadway then, please. Are you sure that goes to Chelsea? We don't want to miss the big game, we're Chelsea fans and we're the best! Oh right, yep, ok, got it. Change at Charing Cross on the Northern Line and change there for a District Line train. A green line train, not a green train. Ok, thank you. Bye!"
After eventually finding ourselves at Fulham Broadway station, we walked up a flight of stairs and out towards the ticket office on the right-hand side where we saw daylight at the end of the short concourse.
"Just follow the crowd, lads, everyone's going to the game, don't worry". They were. We did.
Stopping to hand over a few coins for one of those funny little booklets that seemed to accompany each match, the seller bent down and explained to me that they were actually called programmes. Right. Got it. Programmes.
All fine so far but a short while later it happened, something so awful that I just didn't know how to react or what to do. There, as we sat on the concrete steps of the North Stand with the funny box-type stand to our left, it hit me like a freight train straight between the eyes. I'd opened the programme only to see an image that I hadn't been remotely prepared for and that still troubles me to this day. There, on the Crystal Palace team page in our official matchday programme, was a photo of Bobby. Bobby Tambling. OUR Bobby Tambling. He was wearing a full Palace kit and sat in the front row of their official team photo, right at the front! Mum! Dad! This is NOT how it's meant to be. My day was unravelling and it was all Crystal Palace's fault. We had to beat them!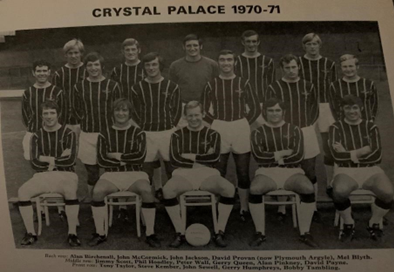 So, we settled back and waited for the big kick off, listening to the pre-match spin belting out some of my favourites like 'Hot Love' by T Rex, 'Pushbike Song' by Mixtures and 'Double Barrel' by Dave and Ansel Collins, not to mention a certain song called 'Sweet Caroline' by a bloke called Neil Diamond. I wasn't aware then, indeed how could I be, of the part it would later go on to play as a sort of soundtrack to my life. So good, so good.
Unfortunately for me and for Chelsea, Palace hadn't read the script properly and committed a sin, a horrible nasty sin that cut right to the bone. They scored.
Thankfully, David Webb came to our rescue and we fought back for a 1-1 draw with the Bobby-Stealers from South London. They smuggled 'Our Bobby' back to Selhurst Park in the back of an unmarked vehicle and we, the intrepid travellers from north London, were left to ponder how they had stolen both Mr Tambling AND a point.
When I'd calmed down, about 17 years later to be fair, I realised that Chelsea's full-page tribute to Bobby Tambling was, in fact, really quite something:
Bobby Tambling as we shall always remember him – in Royal Blue during his great goalscoring days for Chelsea.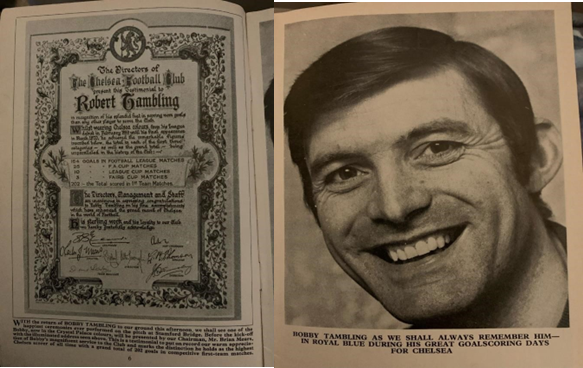 Since that Saturday afternoon back in April 1971, I've had the pleasure of meeting Bobby on a couple of occasions and have read many articles and books about him, not to mention countless videos of the great man in action (in the royal blue of Chelsea, of course) and there's one stat that always seems to be left out: 370 appearances for Chelsea
202 goals, a record held for 47 years
3 appearances for England
However, what they need to add is:
100% thoroughly nice gentleman who is an absolute credit to us all.
Thank you, Bobby, for…..everything.