The summer of '76 was a long, hot one. I would wake in the morning to Steve Harley and Cockney Rebel stating the obvious; 'Here Comes the Sun'. I would complete a paper round around the houses and flats of Barking, Essex just to get enough cash for the weekend as I followed Chelsea both home and away. The heat could be felt even at that early hour of the day as Elton John and Kiki Dee said 'Don't Go Breaking My Heart' while Dr Hook wanted 'A Little Bit More' as David Dundas put his 'Jeans On'. After a disappointing finish of 11th the previous season, I felt that this could be our season, especially when Jimmy James and the Vagabonds declared 'Now Is the Time' at the same time as Barry White's pre-match talk consisted of 'Baby, We Better Try And Get It Together'. Good advice, I thought.
Shortly after the season's opening game away at Orient, a 0-1 win for our Super Blues, we remained unbeaten going into the London derby away at The Den, Millwall. To the tune of Johnny Wakelin's 'In Zaire', we declared our intention to be there in South East London as we changed the words to 'Once there was a battle there, in Mill, in Millwall…..'
I've never known a game come around so quickly. One minute I was tucked up safely in bed listening to Robbie Vincent's 'Late Night London', the next I was on a bus asking the conductor to put me off at the closest stop to the ground. He duly obliged and as I turned a corner, I saw it there before me. Noting that the area seemed quiet, too eerily quiet, I now realised why; I was looking at The Valley, home of Charlton Athletic. He'd put me off at the wrong stop, perhaps for my own safety? Nice man, however I wasn't done quite yet.
After arriving at The Den, my original intended target, I hid my silk Chelsea scarf by a tree near Millwall's ground as the locals gave a memorable welcome to anyone they considered to be 'one of the other lot'.
As I got in, a small group of Chelsea invited Millwall fans to 'come and join us over here'. Never ones to turn down such a request, about 300 or so in the Cold Blow Lane home end did as they accepted our kind offer and joined us after a sprint across the pitch. We got to meet many of them up close and exchanged greetings, leaving a group of 'our lot' to fend for themselves in the top right-hand corner of that opposite end, the CBL.
As for the game itself, well the less said the better.
Quite unbelievably my scarf was still where I'd left it so I trudged home dejectedly only for Mum and Dad to meet me at the door asking if I'd been anywhere near the football that afternoon as it had been all over the news and radio that afternoon.
"No, I went to the pictures with me mates instead" I lied.
Paying around £5 thanks to my newly-acquired Young Persons Railcard for trips to Plymouth Argyle (2-3) and Blackpool (0-1), the season was shaping up quite nicely. We had been drawn away at Arsenal in the League Cup in October, while not too far away in Camden around the same time, a newborn baby was heard to cry as Emma Carol Hayes announced her arrival. Born is the Queen of Chelsea FC.
As we met under the North Bank, Highbury, Chelsea fans seemed to populate the home end in large numbers as trouble erupted around us. I got some really strange looks from my fellow Blues as several Arsenal fans, obviously upset at having so many Chelsea in their end stopped and asked me such things as 'How you doin', Mick? How's your Mum and Dad, they doin' ok?' and 'I see your brother the other day, tell 'im I said hello, right?'.
As for the game itself, well the less said the better. Having said that, the roar when David Hay's equaliser went in was something I'll remember forever. We were only level for a minute or so.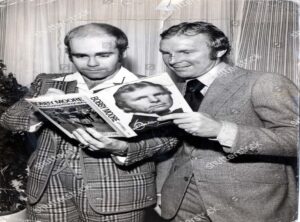 So, after we celebrated Christmas and Boxing Day, I made my way to our home game against Fulham. So did 55,002 others as we packed into a Stamford Bridge for a Second Division fixture. It was certainly tough having no fans and no history back then! I made the journey up to Uncle Charlie's in Boreham Wood deliriously happy and proud of 'My Chelsea'. Could we get back to the big time by securing promotion in May? I had one eye on the away fixture that could possibly bring it, namely Wolves at Molineux on 7th May.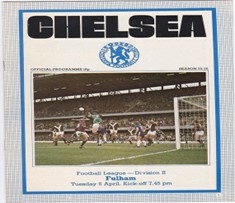 We seemed to pick points wherever we went, we were afraid of no one. Victories at home to Hereford, Bristol Rovers, Blackburn, Luton, Forest and Sheffield United accompanied wins away from home at Carlisle and Cardiff with a few draws scattered here and there for good measure. As 7th May approached, it was clear; a point away in the Midlands would be enough for Chelsea to return to our rightful position at the top table, Division One and all that comes with it. We needed at least a draw up there though.
The authorities, as they often do, decided to make an example of SOME of our rowdy fans by punishing ALL of our fans. There would be a ban on Chelsea fans attending the game at Wolves and tickets would not be made available to any of us. To further over-egg the pudding, cheap day return tickets would not be made available on the trains between London Euston and Wolverhampton that weekend either. Those decisions appeared to make our fans even more determined to witness our task that afternoon, almost like poking and prodding a lion to see what would happen. Well, the lion and his mates duly woke up and poured into Molineux on the day, many driving their own vehicles or hiring cars, minibuses and coaches to do likewise. Bundles of tickets were made available along the Fulham Road prior to the match and National Express rubbed their hands together at the thought of the extraordinarily busy day they were going to have as packed vehicles made their way to Wolverhampton, Dudley and anywhere else our lot could reasonably get to. '1977 You Can't Ban a Chelsea Fan'.
A Tommy Langley goal saw us gain a 1-1 draw during the 90 minutes and meant we were up and Wolves finished top and the final whistle was the signal for hundreds and then thousands of gold and blue fans to invade the pitch and dance in celebratory mood and enjoy the realisation of their team's achievement before the mood changed almost instantly and the pitch resembled a battlefield at times as different types of pleasantries were now being exchanged.
As I boarded the coach at Dudley for the return back to Victoria, I felt exhausted but elated at what I'd just seen, Charlie Cooke making eye contact with me as the team coach overtook us on the motorway. After a couple of years in the second tier we were back and this time the First Division had better be ready for us. Chelsea are back! Chelsea are back! Hello! Hello!