As I awoke in my bedroom around August 1975, 'George Davis is Innocent' newly graffitied on numerous walls and surfaces in and around London, the sounds of the chart hits of the day played out on my little transistor radio perched next to my bed just around the corner from Barking station, that hotbed of West Ham support and with Chelsea in their end. Me.
The Stylistics couldn't give me anything but their love, so I settled on 2 points away at Sunderland in the season's opening game instead. Bad Company said they felt like making love, Sparks asked us to get in the swing, Billy Jo Spears laid a blanket on the ground while George McCrae stated that it had been so long. David Cassidy tried to get it up for love but KC and the Sunshine Band probably had the most pleasing outcome as they said that's the way I like it. Well, good for them is all I could say.
The Stylistics still owe me 2 points as we went down 2-1 away at Roker Park in the season's opener but not before I'd attended all three of the Anglo-Scottish Cup ties prior to the season's opening day. A 1-0 home win against Bristol City was followed by a 1-1 draw at home to Norwich City, only for our near-neighbours Fulham to emerge as 1-0 victors as we travelled over land and sea (well, to Craven Cottage anyway).
Revenge against Carlisle Utd was exacted on 23rd August and would serve them right for beating us 2-0 the previous season, the cheek of it. With a Teddy Maybank brace and a Brian Bason thunderbolt giving us a 3-1 win, Bason's goal would live long in the memory as he fell to the ground after a heavy challenge, got up, limped around a bit and looked as though he may have suffered a terrible career-ending injury only to receive the ball and unleash a rocket from outside the box to leave us all in absolute delight and laughing all the way home.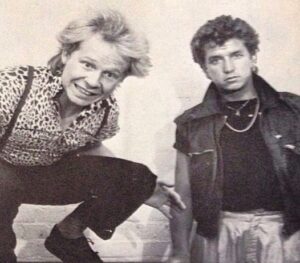 Two particular Chelsea fans were embarking on a whole new chapter of their lives at around the same time in August of that year. Steve Jones and Paul Cook had met with a Kings Road shop owner named Malcolm McLaren and asked one of the shop's customers to audition for a place in their band. At the Roebuck public house on the Kings Road, a thin, rather odd-looking individual wearing a home-made 'I Hate Pink Floyd' t-shirt met with the lads and later went back to the shop where Alice Cooper's 'Eighteen' played out on a jukebox at the rear of SEX, owned by McLaren and his partner, Vivienne Westwood. They had found their lead singer and duly named him Johnny Rotten. Unsure of what to call the band after previous suggestions of The Strand and The Swanker's were toyed with, they finally plumped for 'Sex Pistols' and history was in the process of being well and truly made.
I felt that cup success would surely come to us this season, especially as we drew lowly Crewe Alexandra in the 2nd Round of the League Cup, however the players didn't share my optimism and promptly went out of the competition at the first attempt. The FA Cup it would need to be then.
19th September saw a new comedy air for the very first time on the BBC. Seeing as it starred that tall bloke from Monty Python's Flying Circus, the one who did the silly walks, I decided to watch 'Fawlty Towers' and absolutely loved it. A manager who tried hard but appeared to end up all over the place struck a chord with me and not for the last time either.
4th October saw us draw 0-0 at home to York City in a game that I could best describe as 'difficult to watch' and will be remembered for being a game that had absolutely nothing to remember it by.
Queen released a song called 'Bohemian Rhapsody' on 31st October and Scaramouche was asked to do the Fandango and, remembering the York City home game just a couple of weeks prior, I asked if I could be spared from this monstrosity?
Steve and Paul, our Chelsea fans now rehearsing as 'Sex Pistols', played their very first live gig in the top-floor Common Room at St Martins School of Art, the set having the plug pulled on it after only 5 songs as the evening descended into disarray and some mayhem. Was this a sign of things to come?
Travelling over to Brisbane Road for the Orient v Chelsea Boxing Day game, it was great to see the old-fashioned tradition of visiting friends and loved-ones was alive and well as a number of West Ham's finest showed up and greeted us in their own, inimitable way, seemingly preferring that to travelling up to watch their 'Appee 'Ammers get stuffed 4-1 at Villa. Merry Christmas, lads.
A huge 35,226 crowd shared my optimism for cup success as we hosted Bristol Rovers at home on New Years Day. This could be OUR year, especially as we grabbed a 0-0 draw before beating them 0-1 in the replay. York City away in the next round saw an immensely satisfying 0-2 victory as one particular Chelsea fan ran onto the pitch and kissed the feet of our skipper, one Ray 'Butch' Wilkins. Come on Chelsea!
I travelled to Oxford United's Manor Ground to see us draw 0-0 with them, however my overriding memory of that game would be that I got to see Peter Houseman for the very last time. The sight of Peter's shot that went through the fumbling figure of Gary Sprake at Wembley in 1970 would forever be imprinted in my memory and for that, and also his two goals against Dirty Leeds in 1971 during my first ever game, as well as everything else too, I thank you Peter, may you sincerely Rest in Peace.
14th February saw Crystal Palace come to The Bridge in the FA Cup and things simmered nicely until, just before kick-off, Malcolm Allison, Palace's flamboyant and charismatic manager strode up to the massed ranks of Chelsea fans standing under The Shed and, wearing a massive fedora on his head and smoking a big, fat cigar, promptly baited our lot to a point of near pandemonium as Blue's fans wanted to put the cigar somewhere else. To a backdrop of 'Everybody is kung-fu fighting', the behaviour of fans on the terraces deteriorated as Chelsea eventually lost a thriller 2-3 to exit the cup.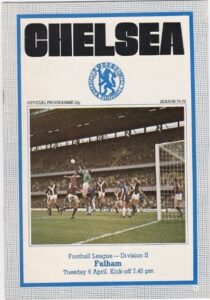 Oh well, glory would have to wait for another year and we were left to reflect on a disappointing finish of 11th place in the league and exiting both domestics cups in the 2nd and 5th Rounds, respectively. 18th February had seen our lowest attendance of the season, just 10,254 seeing the Hull City home game.
I'd gone to the cinema early in '76 to watch a new movie about shark attacks, namely Jaws. I hoped Chelsea would also attack next season and perhaps show some bite too. Only time would tell.
Ossie lifted the FA Cup with Southampton at Wembley, Saints beating Man Utd 1-0, so it wasn't all bad, I suppose.
To round off the season I travelled from Barking to Charlton Athletic and their Valley ground to see The Who play live in their 'Who Put The Boot In' tour. Supported by The Sensational Alex Harvey Band, Little Feat and Widowmaker, the whole day was quite something for this young Chelsea fan as laser beams darted around the night sky as 'We Won't Get Fooled Again' echoed around the massive bank of terracing where I watched in awe from behind blue eyes. Would Chelsea be back next season? You better, you better, you bet.