As I would quickly learn about following my beloved Blues, invariably you've got to take the rough with the smooth, the good with the bad, the positives as well as the negatives.
This became evident one Friday in August '71 as I received the news from Mum and Dad that, after much planning and effort, I could go to Stamford Bridge for what would be only my third game, this time against none other than the (then)(well it was a long time ago) mighty Manchester United, my blue heroes facing the likes of Bobby Charlton, Brian Kidd, Dennis Law and of course, George Best.
There was one condition and it was a difficult one to agree upon immediately, time and careful consideration would be needed before I could accept the terms and conditions attached; namely that I had to go with 'that bloke from dad's work, y'know, the nice one…..the Man Utd fan'.
What? Really? Stand with a red and white scarf-wearing bloke who'd be cheering on the enemy? What would he do if THEY scored? What would I do if THEY scored? What if people thought I was a United fan too? Aagghh! Oh, this was hard, really hard.
After much soul-searching and several new suggestions, one of which was 'well don't go then', a fairly good Friday agreement was accepted and the game approached soon enough. A ceasefire had been agreed as the United fan agreed to stand in The Shed rather than 'with his own people' on their side of the ground. It wasn't perfect but both parties agreed to a truce and without the need for a peace wall.
For many, many years I'd been putting up colour photos of my Chelsea heroes on my bedroom walls in north London, first in Islington and now in Belsize Park, NW3. Peter Bonetti, Bobby Tambling, Ron Harris, Ian Hutchinson, Charlie Cooke, David Webb and, of course, Peter 'Ossie' Osgood all watched down on me as I dreamed of scoring a last minute winner in the Cup Final against Arsenal at Wembley, beating all of the Arsenal players at least twice before casually rounding Bob Wilson and slotting the ball home to send the Chelsea fans wild as I celebrated my goal in front of them, my arm aloft just like Ossie the King.
However, there was one player I liked, just a bit and not too much, that didn't appear on my walls, couldn't appear on my walls and would never appear on my walls for obvious reasons. I couldn't tell many people of my secret liking for this player and it would take many, many years for me to finally 'come out' and admit to the world that I was, in actual fact, an admirer of a certain George Best. There, I've said it. Now I would get to see the player himself on the hallowed turf of Stamford Bridge at my Chelsea.
Wednesday 18th August arrived and 'that nice bloke at dad's work' and I met at half past five outside the National Westminster Bank on Pentonville Road near King's Cross and travelled to Fulham Broadway via Earl's Court using a combination of the Piccadilly Line connecting with a District Line train, a journey I'm still adhering to today even if the actual route is a slightly different one.
Programme in hand, I made my way up the steps of The Shed and waited for battle to commence, the tall floodlight pylons looming over me like something from H G Wells' 'War of the Worlds', aliens just about to stomp their way towards me and annihilate everything in sight. Thankfully, they didn't attack and the game started but not before our heroes in blue had paraded the European Cup Winners Cup trophy to all present that night. Gleaming, silver and shiny, it made its way around the pitch on the dog-track as us fans clapped and cheered loudly. Chelsea would always be like this, wouldn't it?
Tommy Baldwin popped up with a goal in the 39th minute to give Chelsea the lead and I was ready to accept that we'd collect our two points and trundle off home to north London happy at the inevitable outcome. This was Chelsea though, we didn't do anything the straightforward way and tonight was to be no different.
The referee, one Norman Burtenshaw from Great Yarmouth, took umbrage to something said by one of the United players and promptly sent him off. "Who was it?" "Can you see?" "It's…yeah, it is, it's George Best, he's sent off George Best!"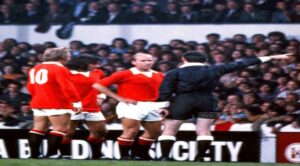 Best trudged off the pitch still remonstrating with Norman but argue as he may, he would play no more part in our beating of Manchester's finest that night. Our 11 players would beat United's mere 10 and we'd be the best club in the whole world as usual and when I eventually went back to school I could hold my head high and tell the Arsenal fans that I'd seen us, Chelsea, beat Man Utd. Indeed, the whole school seemed overrun by Arsenal fans so it'd be really nice letting them know that Chelsea, my Chelsea, had seen off the reds from Manchester and that The Blues would probably go on and win the title now.
As we sloped off home to north London that warm, August night, I still couldn't work out how we'd actually lost 2-3 to 'them'. I'd seen Chelsea win, I'd seen Chelsea draw and now I'd seen Chelsea lose. I never wanted to feel this way again, however something in the back of my mind was whispering to me "You'd better get used to it, sunshine, you should see what's coming your way!"
George 'Geordie' Best went on to have what could only be described as a troubled season after having been sent off at our place. Receiving death threats from the IRA back in Dear Old Belfast Town, Northern Ireland's finest son travelled to their away game at Newcastle by lying on the floor of the United bus as it arrived at St James' Park. After scoring the only goal in a 0-1 victory, Best was asked about the fear of an IRA sniper taking a shot at him. With a twinkle in his eye, George replied "Mine was the only shot on target all afternoon".
Going missing later in the season, Best decided to play at home with Miss Great Britain instead of training, preferring to swap shirts (as well as other articles of clothing, I'm sure) with Carolyn Moore instead. George had begun his fall from grace, certainly in a football sense, and nothing it seemed could stop him. Upon being asked if he could remember where his love of alcohol stemmed from, George replied "I was on a flight to North America and there in the in-flight magazine was an advert on one of the pages that read 'Drink Canada Dry', so I did!"
Who can possibly forget the story he often told about a waiter delivering champagne to his hotel room only to be confronted by the current Miss World snuggled up in bed under thousands of pounds in cash won at the casino, the waiter asking "Mr Best, where did it all go wrong?".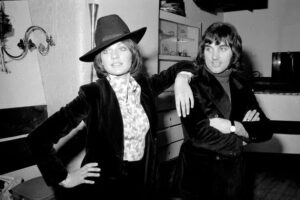 For Chelsea, our 58th competitive season saw us finish 7th in the First Division but above United in 8th but without a trophy.
Next season would be better, right?